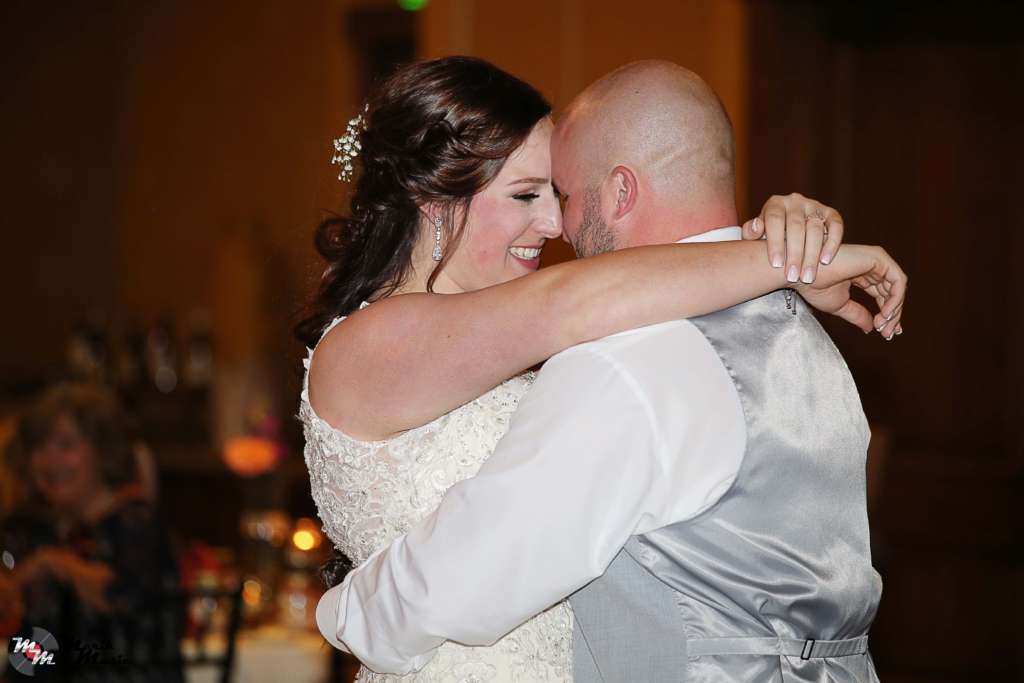 Wedding Reception Order of Events/Timeline
We help most of our couples with creating the timeline for their special day. Timelines tend to vary greatly depending upon the type of vendor providing the recommendations. Wedding websites such as Weddingwire and The Knot are written from the standpoint of wedding planners. All viewpoints will be different, but the main point to remember is that it is your day and ultimately it is your decision on how your wedding flows. Your timeline should represent your vision of your day. However, since most of the couples we meet have either not been to many weddings or just not sure what would work best, we decided to create this page to assist in timeline creation.
Let us begin by discussing your vision for your day. We feel that weddings are about the special moments. The dancing is fun and we love the open dancing portion of the evening, but most people attend weddings to celebrate with you and view your special moments. Lets address each moment individually. These moments are discussed in our recommended order of procession. We will summarize the timeline at the end. If you do not need the details of each event, please click here to see a proposed finalized timeline. Please always keep in mind that it is your day and these are only suggestions. You can also flip the timeline completely on its head during the wedding. It is your special day and we are there to help you make the day everything you have always dreamed and envisioned.

Pre-Ceremony

We always ask our clients if they would like some music played while their guests are arriving and finding their seats. In most cases, we are asked to play 30 minutes to an hour of pre-ceremony music. The music will go off approximately 10 minutes before the ceremony is scheduled to begin. There are two reasons for this; 1. It gives your guests a good indication that the ceremony is about to begin and they should find a seat. 2. It gives your DJ team 10 minutes to prepare the music and coordinate the processional.

Processional

In regard to the timeline, this is fairly straight forward. This is the part of the ceremony that includes all of the walks down the aisle. This can be simply the bridal party and bride or it can be elaborate and include everyone from parents and grandparents being seated to the officiant and groom. All we suggest is that you choose songs long enough for everyone to make it down the aisle. We also recommend that the bride have their own song. Sometimes the bride needs a minute to wipe away happy tears or perhaps there might be a dress malfunction. Either way, we recommend the bride having their own song. It is also her special day and she should have her own song. There are numerous special events that are commonly performed during wedding ceremonies. In order to assist couples, below you will find a list of the most common ceremonies we have seen performed in weddings.
Click on the event below to find out more information.

Recessional

The recessional is the part of the ceremony when everyone exits. This will begin with the bride and groom followed by the bridal party. The song used for this is usually something upbeat and fun, but it can also be slow and heartfelt. This is your day and it should be what you want. We usually supply a lapel mic to your officiant. We can also supply a handheld mic if your officiant if they are a woman or if you want a mic to hold for your vows. We have mic systems that allow us to run a lapel and handheld mics at the same time. We will give your officiant volume after your bridal party has exited the ceremony if there are any announcements they need to make.

Receiving Line

The receiving line takes place after the ceremony. This is where the bride and groom lines up followed by the bridal party and sometimes the parents. This gives your guests a chance to congratulate you before heading into the reception. The line should start with the parents and end with the bride and groom. We always recommend a receiving line for weddings with more than 75 guests. This recommendation is because it sometimes becomes difficult for the bride and groom to have time to talk to all of their guests when the guest list is over 75.

Photos

​In most cases, following the reception line, the bride and groom would leave with their photographer to take photos. This can also happen after the recessional if there is no receiving line. We suggest talking with the photographer to see how long they intend on keeping you for photos. We have seen photos take anywhere from 30 minutes to 2 hours. Please keep in mind that it is your day and you should get the photos you want. However, we like to remind all of our clients that your guests will be waiting for you during this time. Please make sure there are some appetizers and alcohol (if you are not having a dry wedding). It is always a good idea to have your officiant announce that the family needs to meet somewhere or stay where they are for photos. You will want to start your photos with the family and then dismiss people as the photographer is finished with them until it is only the bride and groom. The family can then join the reception.

Introductions

Introductions can be as simple or elaborate as you wish. We have performed introductions for just the bride and groom and we have performed introductions for the bride and groom, the bridal party, the parents, and even the dog! Introductions are fun and we can have different songs for each group or one song for everyone. You should look at some videos on YouTube and discuss with your DJ how you would like introductions to be performed. Also, it is important to decide how you would like everyone to be introduced. Do you want your bridal party introduced as "The Bridal Party", do you want them listed by first name, or do you want their names read off with first and last names. Also, do you want to be introduced as "Mr. and Mrs. [Groom's Last Name]", "Mr. and Mrs. [Groom's First Name] [Groom's Last Name]" (most traditional), "Mr. and Mrs. [Groom's First Name] and [Bride's First Name] [Groom's Last Name]", Mr. [Groom First and Last Name] and Mrs. [Bride First and Last Name] (sometimes the bride doesn't take the groom's name), or something else. This is your day and it is up to you how everyone is announced.

Bridal Party Dance

The bridal party dance is not something that is always seen. However, traditionally it works best to put it right after introductions. This works when you have your bridal party introduced and then they all make/dance their way to the dance floor. Once all introductions are finished, the DJ would play the bridal party song and then the bridal party dance would commence. This dance is usually choreographed, but that is not always the case. We have seen it where the groomsmen dance with the bridesmaids to a slow song. Both situations work well. However, once again, this is your day and it can happen however you want.

Blessing

Some couples have a blessing before the meal. This is completely up to you. If so, your DJ should have a wireless handheld mic for the blessing. This usually takes place by the head table or on the dance floor.

Buffet/Plated Dinner

Some weddings do not have an official dinner, but instead just serve finger foods. However, most weddings that we have DJd do have either a buffet or a plated dinner. If the dinner is plated, the bride and groom should be served first. The bridal party should be next followed by the immediate families. If you include the DJ in your plated dinner, please make sure the caterer is aware so that they have enough plates, silverware, and napkins for your DJ or DJ team.

If the dinner is a buffet, we will release the bride, groom, and bridal party first. We will then release any reserved tables. Reserved tables should be where the immediate families are seated. It helps the DJ if you number the tables so that we can release tables to the buffet in an orderly fashion to reduce the amount of time the guests have to wait in line. Our teams can also release the tables personally if it is not possible to have tables numbers. The DJ will get in line for the buffet, if they are included in the count, at the end of the buffet. If you do not include the DJ in the count, please find out if outside food and drink are allowed at the venue. It is important for timeline purposes to be able to estimate how long the buffet will take. Here is a guideline:

| Guests | Time Frame |
| --- | --- |
| 50 | 25 Minutes |
| 75 | 35 Minutes |
| 100 | 45 Minutes |
| 150 | 1 Hour |
| 200 | 1 Hour 15 Minutes |
The above guideline is only an estimate. If the buffet is being served, the times could be longer. If the buffet is self served and two sided, the times will most likely be shorter.

Toasts/Speeches

Once the last person has made it through the buffet, the bridal party should be finished. This is a good time for toasts since it is usually started by the best man. It is important to tell your DJ if you want an open mic after the designated parties have spoken.

First Dance

We have seen the first dance come after the introductions, but that is not as common. The first dance works well after toasts. We will then clear the dance floor and invite the bride and groom to the floor for their first dance.

Father/Bride Dance

We feel that it is the Bride's day and the next dance should be her and her father.

Mother/Groom Dance

We will then invite the groom back out to the dance floor to dance with his mom.

*Keep in mind that we have also seen mother/daughter dances in place of the father/bride or mother/groom. We have also seen it added as an extra special dance. We have even seen a groom/mother-in-law dance. We just recommend all of those types of dances happen around this time in the reception. However, once again, it is your day and this is only a suggestion.

Cake Cutting

Some wedding websites will state that the cake cutting should take place in the last hour of the reception. Other websites suggest that it should take place after toasts or after dinner so that it is more of a desert. However, we recommend the cake cutting take place here after the first, father/bride, and/or mother/groom dances. Some people are probably finishing up eating during the first few dances and it will still feel like a desert. However, the main reason for our suggestion is in relation to your photos. If you decide to smash the cake into each others face, then during the clean-up, the bride will be wiping off some makeup. Therefore, your first dance photos will not be as perfect as you might have wanted. If there is not going to be any cake smashing, then you could easily move the cake cutting up or back in the timeline.

Generations Dance

This dance is sometimes referred to as the Anniversary Dance. We invite all married couples to the dance floor. We will then play a song. We will begin dismissing couples from the floor based upon how long they have been married. We try to leave a few seconds of the song for the last couple to dance to alone. We will take the wireless mic to them and ask how long they have been married. We will ask everyone to clap for the couple. We will then ask the couple for some advice for the newlyweds. This dance is nice because it usually gets people up to dance that might not dance any other time during the reception. In addition, it is just a really nice heart felt dance celebrating marriage.

Money Dance
The money dance, or dollar dance, is an event where guests line up to pay money in order to dance with the bride and groom. The dance begins with the bride and groom dancing together. We like to try to create two lines, one for the bride and one for the groom. It is customary to have someone directing the traffic. This is usually the best man and maid/matron of honor, but it can be anyone that is designated. The money can be handled in numerous ways. You can have the money collected by the designated individuals controlling the lines. We have also seen it where the bride and groom collect the money themselves. In that case, the groom would pocked the money and the bride would either have the guests pin it to her dress or vail or even shove it down her dress. We have also seen the bride and groom wear aprons for the money. Some brides and grooms have containers for the money as well. We will continue to play as many songs as it takes until every guest that wishes to participate has an opportunity. This lasts about 3 songs on average, but we have seen large weddings have money dances that can last up to 8 or 10 songs!

Shoe Game

The shoe game is essentially the wedding version of the newlywed game. The bride and groom will sit back to back in chairs. The bride will have one of her shoes and one of the groom's. The groom, in return, will have one of his shoes and one of the bride's. The bride's shoes should be one one side and the groom's shoes on the other side. This creates a situation where if the answer to the question is the bride, the shoes will be risen on the same side. The DJ will then ask the bride and groom 15 to 20 questions to see how well they agree with each other. A sample question would be "Who is the faster driver?". We offer to select the questions for you so that the parties do not know what is going to be asked. We are conservative with the questions to ensure that neither party is embarrassed by the questions. Of course, you can choose to select them yourself or have a family member select them. However, we just want to remind you that we are not responsible for embarrassing questions being asked if we do not choose them.

Bouquet Toss

This is a popular event at most weddings. Please make sure you have a throwing bouquet! We will play your song and then invite all of the single ladies to the dance floor. We will try to get them all out there, but this is usually not a problem with women. When you feel that they are all there, usually the bride turns around and tosses the bouquet over their head so that it is pure chance as to who catches the bouquet.

Garter Toss

This event almost always follows the Bouquet Toss. It will start with the bride in a chair. Please make sure you have an extra garter if you would like to keep yours. We will begin by playing the song and then telling the single men to get ready. The groom will then proceed to take the garter off of the bride. This is usually done with either the groom's hands or mouth. Once the garter is off of the bride, we will invite all of the single men to the floor. This is sometimes more challenging, so we will do what we can to get them out there. When the single men are on the floor, the groom will then turn around and fling the garter behind them similar to shooting a rubberband. Hopefully, someone will catch the garter. However, do not be surprised when it hits the floor and someone finally reluctantly picks it up.

Open Dancing!

We will then move into open dancing. Unless you ask us not to, we love to take requests. However, bride and groom can always request. We are not club DJs. We will play the radio edits unless you request different. The songs will be mixed, but you will hear them in their entirety or at least until they begin to fade out. If you prefer that we switch songs if no one is dancing, please let the DJ know that on site. This is not preferred, but as we stated before, this is your day!
**Sunset Photos

Sometimes you and your photographer would like to take sunset photos. We think that some of the shots taken at sunset are amazing. However, we recommend trying to do them after your events if possible or before dancing begins. We also recommend that the shots take less than 30 minutes if possible since your guests will be waiting for you. We also recommend letting your DJ know so that he/she can make an announcement informing your guests of why you are leaving.

Summary

Remember this is 100% your day and we work for you. However, this is just our suggestion of a wedding timeline based on what we know works well given our years of experience and hundreds of weddings. If you front load events, you will have more time for open dancing and if guests are unable to stay the entire time, they get to see the special events. Some of your older guests may not be able to make it to the end, so this way grandma will get to see what she wanted to see without waiting for events after some of the party. Also, momentum on your floor during open dancing is greatly affected by splitting this up. Here is a summary of the events and which ones usually require a song:

Event
Songs
Pre-Ceremony
DJ can choose or you can select a group of
music such as Classical or Crooner. usually, but it is your day
Processional
1-4 Songs depending on who is walking down
the aisle and who needs their own song.
Ceremony
Event
Sand, Unity Candle, etc. Usually has a song
Recessional
Song
Receiving Line


Photos
DJ will play music for your guests during this
time. You can let your DJ choose or select from
groups of music
Introductions
1-5 songs depending on how simple or elaborate
Blessing


Dinner
DJ will play music for your guests. We have a
specific section for this in our music request
form. You can also choose from a drop down
in our planning form.
Toast


First Dance
Song
Father/Bride
Song
Mother/Groom
Song
Cake Cutting
Song
Generations Dance
Song
Money Dance
1-8 Songs. You can have the DJ choose. If not,
we recommend choosing at least 3-5.
Shoe Game


Bouquet
Song
Garter
Song
Open Dancing
We allow you select 25 songs that will absolutely
be played during this time. Requests are always
welcomed unless we are informed otherwise.
However, bride and groom can always request.
If you have any questions regarding any of this information, please feel free to contact us at

(970) 261-9063.

If you would like to book us for your wedding, please check out our weddings page here.